Vriksasana,vriksasana. A call and response was taking place between 15 students who were sitting on a wooden floor in various states of repose: cross-legged, tucked against walls, draped in blankets and lounging on comfortable couches. Jess Moody and Katie Kennis were perched cross-legged on bolsters, smiling as the students struggled to pronounce Sanskrit works like Garbhasana, which means Child's Pose.
The duo, who are co-owners of Duck Village Yoga in the Scarborough Faire Shopping Center and apprentices for the Kunga Yoga School, were leading a class for a recent 200-hour Kunga Yoga teacher certification that was held in a spacious home on the oceanside in Duck. As they addressed the aspiring yogis, taking turns sharing their own experiences as business owners, yoga teachers, community activists and budding leaders, they listened and smiled while fielding questions and answering them with wisdom, lightness, poise and passion.
Seeking passion is something both Moody and Kennis embarked on at a young age. When Moody was in college studying engineering at NC State University, she realized that although she was technically good at what she was doing, there was no passion behind it. "It was creating a lot of anxiety and sadness in my life. I started going to the college community center gym to work out." Moody recalls, "One of my friends was going to the Pilates classes, and so I started taking the yoga classes. I knew that I liked it and I knew I was drawn to it…My whole life I've always been drawn to Eastern philosophies, Buddhism and meditation, so I started taking yoga classes randomly."
Kennis began practicing on the Outer Banks with her mother and sister. While she was away at school, her mother was at home on the Outer Banks embarking on her own journey to become a yoga teacher. She continually shared her journey and the tools she was acquiring with Kennis. When she would come home, Kennis would practice yoga with her mother and sister every day.
"I still remember laying in Savasana and listening to a Krishna Das song," Kennis smiles. "The vibrations of the song went deep into my heart and I thought, 'This is it. This is what I need to be doing.'"
After both Moody and Kennis transferred to UNC Wilmington, the pair met in an environmental studies class and quickly realized they shared a passion for yoga. Talking about that time Moody says, "Our friendship really started forming around getting up early, going to yoga class and going to the co-op to get fresh juices. Katie was the only other vegetarian I knew. We were college students getting up at 5 a.m. to do a two-hour yoga practice before class. We were definitely not the norm."
Sensing this, Kennis' mom enrolled the two in an Ashtanga workshop at the Wilmington Yoga Center with Larry Hobbs. It was there that they became aware of the donation-based Kunga Yoga classes. Moody remembers, "I would revolve my entire schedule around getting to these donation Kunga classes."
During that time Moody was on her mat every day at the Wilmington Yoga Center doing whatever she could to earn a little extra money to pay the monthly membership fee while attending college.
"Kunga Yoga is the center of everything that happens at the Wilmington Yoga Center." Moody continues, "It opened the door to all types of yoga and seeing that there was more than one way to approach yoga…seeing people actually practicing what they preach was the game changer for me." Kennis adds, "We saw the ability of a community to come together for something beyond the mat. We were growing up in the center of a pool of people doing this."
What they were doing was Kunga Yoga. Kunga Yoga is the brainchild of Kristen Cooper, founder and training director of the Wilmington Yoga Center and Kunga Yoga School and one of the duo's most beloved mentors. Kunga is a Kinyerwandan word meaning to serve or help. The mission of all Kunga Yoga programs is to offer the teachings of yoga as a path of service to the planet, its people, and all beings. Kunga Yoga is for people of all shapes, sizes, backgrounds, and abilities. The heart of all Kunga Yoga programs is to encourage, inspire, and support healthy living, community building, volunteering, and positive activism. Kunga Yoga classes incorporate a monthly service theme and they encourage conscious awareness of thoughts, words, and actions, and awareness of how these thoughts, words, and actions affect our community.
It was when the Outer Banks community came together to mourn the unexpected death of Kennis' mother, that Moody and Kennis were reunited. They eventually found themselves teaching together while longing for the deep community connection they had experienced at the Wilmington Yoga Center. They started talking and asking questions about why they were working for other people which led to empowering statements and brainstorming sessions. Kennis still speaks about it with great passion remembering how they would say, "We can do this! We can bring something different because it's all so good, and we can share something that's helped us so much." Continued conversations and more yoga practice planted a seed to open a studio, eventually resulting in the opening of Duck Village Yoga Studio.
With the opening of the studio, every step the pair takes is full of gratitude. Kennis and Moody both believe that the Outer Banks is very much a clean slate for the service work that they want to do. They see a very strong and supportive community and want to provide space and support to help people start to dedicate themselves on the mat and then inspire them to serve off the mat.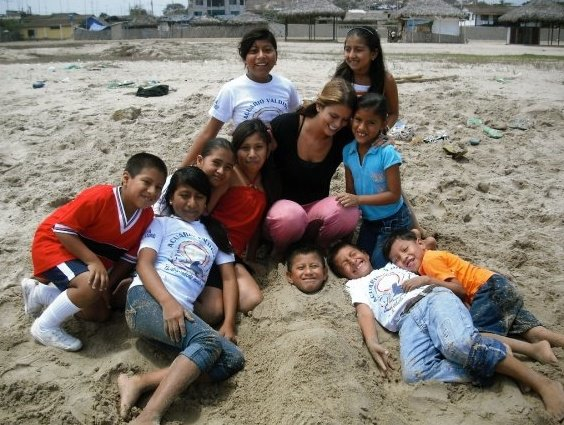 Both Kennis and Moody practice what they preach off the mat. When Kennis graduated, Moody decided to take some time off from school. The pair traveled to South America volunteering in schools and community centers wherever they could teaching English, yoga, and preparing young villagers to interact with tourists. Kennis states, "We would just show up and put it out there. As we did that, everybody wanted us for something."
Moody adds, "When we were in Ecuador, we tried to leave two or three times but we couldn't. Our hearts were there." They are also a part of a non-profit called The Water's Edge Project and have collected money for first aid supplies, taking them into villages in Mexico where Moody, representing Village Yoga, taught yoga, composting, and built a recycling center.
Now, with their hearts centered here on the Outer Banks, Kennis and Moody honor their passion for volunteering and serving by working at the Outer Banks Cancer Resource Center. After being approached by Robin Hearne, the center's Director of Outreach, to work with the patients, the two immediately said yes. "No questions asked!" Kennis states emphatically, "It was something really new for us. We'd never worked with cancer patients or survivors."
The pair immersed themselves in self-study and research so they could provide something authentic and healing and a way to create a community within the hospital of men and women who were open to different forms of healing. Moody adds,
"We're just really grateful to be able to offer it to them. It's a deep connection. To see someone who isn't capable of breathing on their own or walking on their own, sit in a chair and do yoga—there are no words. They have been some of my greatest teachers."
Now they are the teachers. In addition to running their studio and teaching full-time, Kennis and Moody are in the middle of a two year program apprenticing with Cooper, who has been one of their teachers from the beginning. They are training to become leaders and igniters of the flame in their community, learning how to lead using yoga as the stone that creates the ripple. Duck Village Yoga was recently chosen as the first affiliate Kunga School. "It's like a pinch me moment every day," Kennis says. "It's so huge. Kristen sees the work that we are doing, and she sees the potential and knows that our hearts are in it every day. It's such an honor to know that she believes in us and in this community." Moody agrees, "She knows that the magic is here."
Magical things happen when communities come together to create good. This year the Kunga Fund, bolstered by 5% proceeds from each Kunga class, is helping to open a fifth Home of Hope orphanage in India, where young girls are rescued from the streets and given a home, safety, love and an education until they are ready to go back out into the world. There is now a whole global yoga community that is supporting these orphanages. "It's infinite. It's endless what we can do as we pull together," Kennis remarks.
"Katie and I are just two people who have a very big dream." Moody says, "I think of us as a catalyst. We can't do it on our own, but what we are capable of is teaching people to empower themselves to be motivated and inspired to serve whatever part of their community or world that they want to."
On and off the yoga mat